ABOUT US
We are an engineering focused software company based in Bangalore.
Our mission is to provide simple and elegant solutions to problems using technology. We achieve this by holistic problem modelling, focusing on essence and adaptive software design.
OUR FOCUS : SMART Software
Simplicity in user experience

Maintainability to reduce long-term cost

Adaptability to changing user needs

Robustness in user performance

Tolerant to infrastructure faults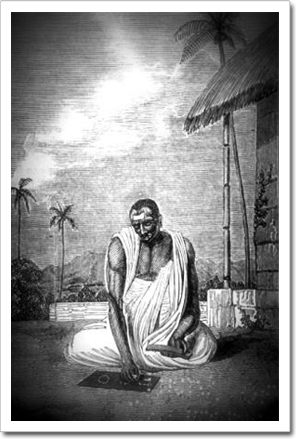 THE STORY OF SHOONYE
Inspired by the Sanskrit word "shoonye", frequently anglicized to be pronounced as "shoonya", Shoonye means "zero" - nothing.
Mathematicians and philosophers have forever dabbled with the problem of representing nothing. After all, how can nothing be something? Eventually, this was solved when the concept of 'shoonye' was invented in India. Shoonye was not just a placeholder, it was treated like another number. Ever since then, shoonye has played a fundamental role in mathematics. It is the basis of many algebraic structures. A simple yet elegant solution to an age-old problem.
So why do we call ourselves 'Shoonye'?
We take our inspiration from this simple solution and internalize this philosophy into each of our actions. We take time to analyze the problem and strive to provide a solution that can be the foundation of a new beginning.
WHAT WE DO?
We work with businesses to understand their requirements and provide a simple but comprehensive solution to their problems.
We know how quickly business requirements change and a successful software design need to be adaptive to survive the competition. We have been been very careful in selecting project and team members. We have taken our time to grow slowly but made conscious effort to stick to our core values.
ENGAGE US
We only engage with clients where we find synergy. We work with companies that seek solution that are long lasting and of highest quality. Once we have decided to work for a client, we focus our efforts to make their plans successful. Our approach is simple:
Agile continuous engagement and constant user feedback

OOAD map objects in real life to code

Open Source find and use awesome free libraries

Rock-star Engineers we hire the best developers
We generally do not engage in fixed cost project. We work on agile development, with 2 week sprint cycle. We guarantee predictable cost on our sprints and project.
CLIENTS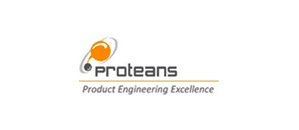 CLIENT TESTIMONIAL
"Shoonye team implemented a very complex project with constantly changing requirements. The team is very efficient in their processes and proficient in diverse technologies." - Eric Davis (CIO, Pacific Coast Bankers' Bank)
"Shoonye has been a crucial part of our business success. Easy to communicate with, efficient in their development, and innovative in how they help us approach problems, they're a pleasure to work with." - Greg McAllister (CEO, Pushpoint)
Anurag, Founder
Engineer with passion for simplifying things. He spent most of his time at IIT Kanpur hacking Linux, C and Java. His interests include problem modeling and building flexible product frameworks. Apart from his family, he loves coding, trekking and photography.
"Thoughts live; they travel far."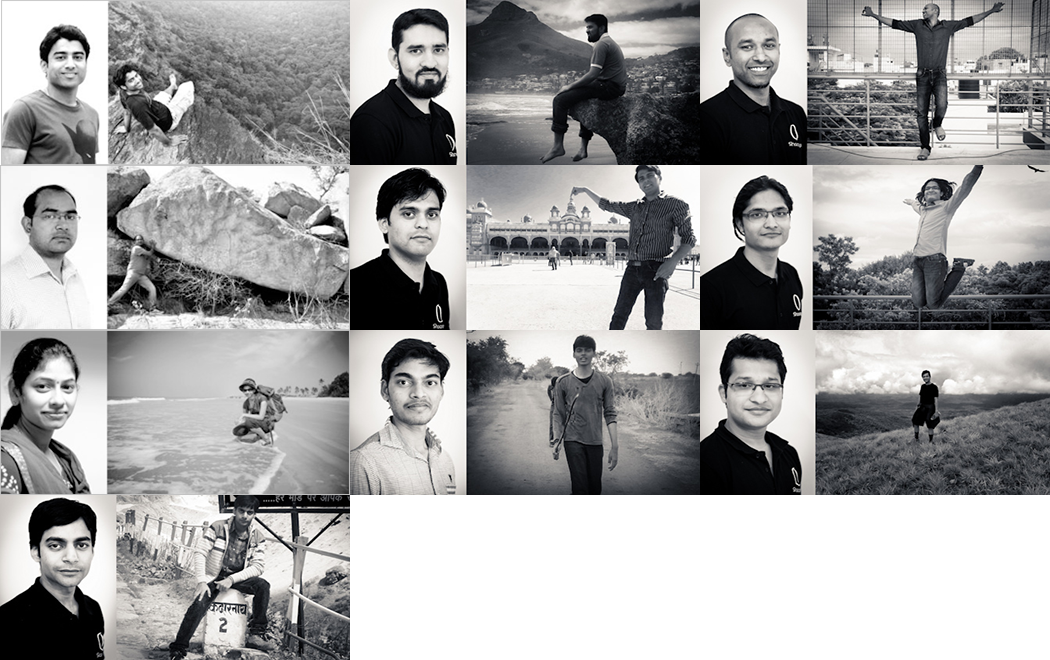 Taher, Lead Engineer (Enterprise Solutions)
Quite, thoughtful and dependable. He is the go to person, trusted by everyone. He loves his family, plays guitar and does community service. He acquired love for trekking during his time at Pune University.
"The only way to enjoy anything in life is to earn it first."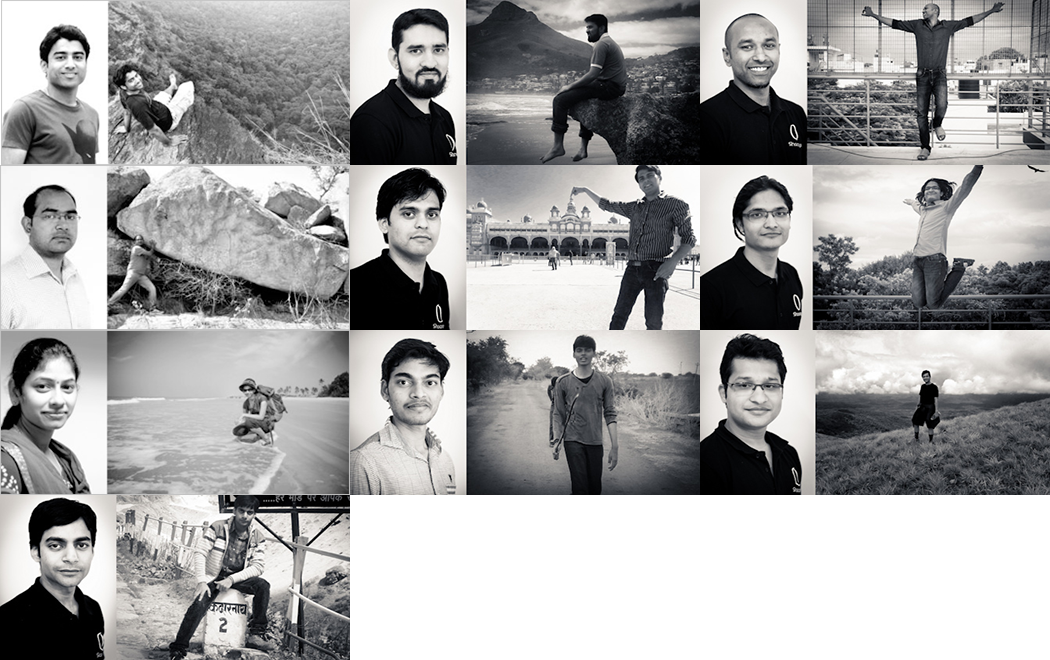 Sushant, Lead Engineer (Front End)
Resident Engineer at Shoonye! He pretty much lives in the office. Apart from going out with friends, travelling and reading, he likes rooms with awkward silences. Quintessential 'Nice guy' since his PESIT days. He is a huge fan of Charles Darwin and his theory.
"It is not the strongest or the most intelligent who will survive but those who can best manage change."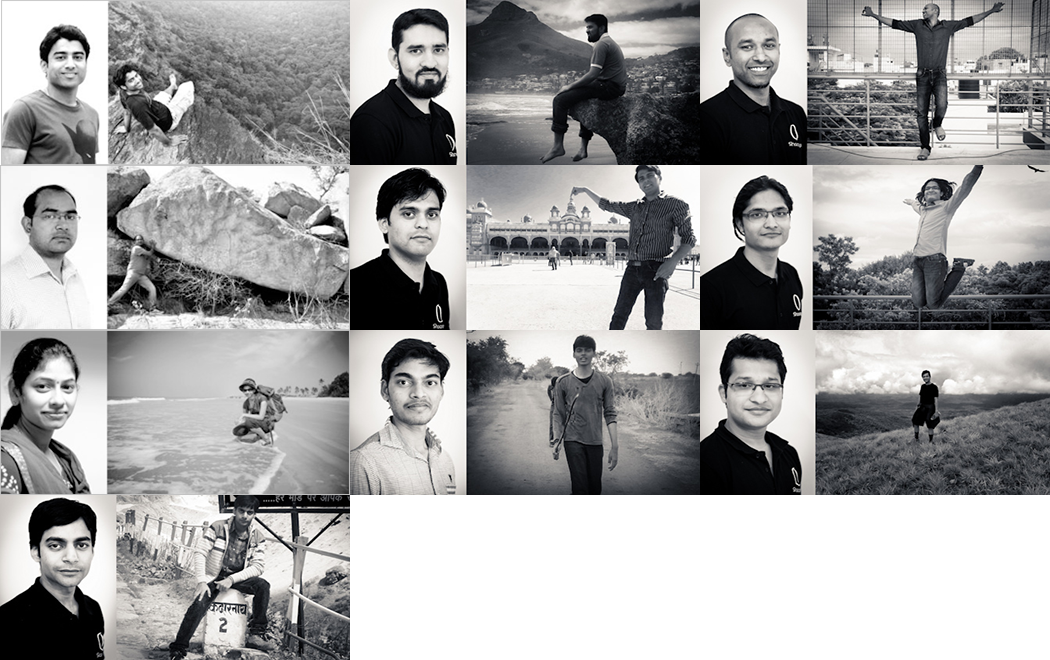 Bala, The Backend engineer
Loves cooking and traveling. Crash landed here after a turbulent flight through Ramaiah College & Oracle. He is Mr. Reliable! Put something on him and you can consider it done!
"Never consider yourself the cause of the results of your activities, and never be attached to not doing your duty.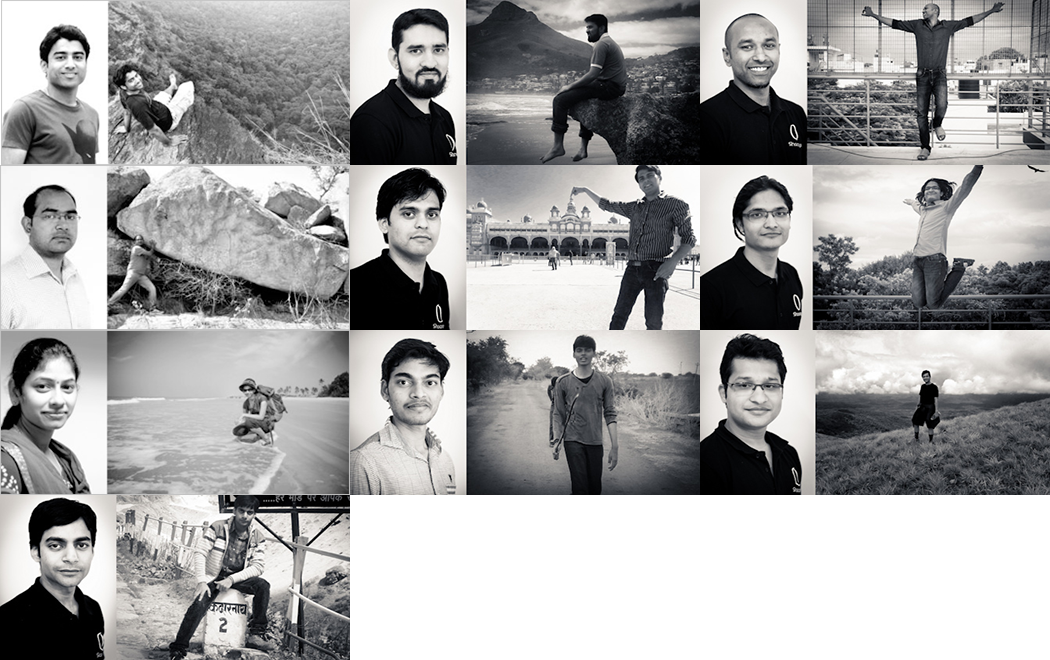 Dheeraj, Senior Server Engineer
First thing you will notice about him is his unimpeachable smile. He is a rational person, believer in science. Loves to spend time in bulla sessions (discussions), a habit that he acquired at IIT Kanpur. Favourite time pass include solving puzzeles, reading manga and playing guitar.
" Today is the first day of the rest of my life."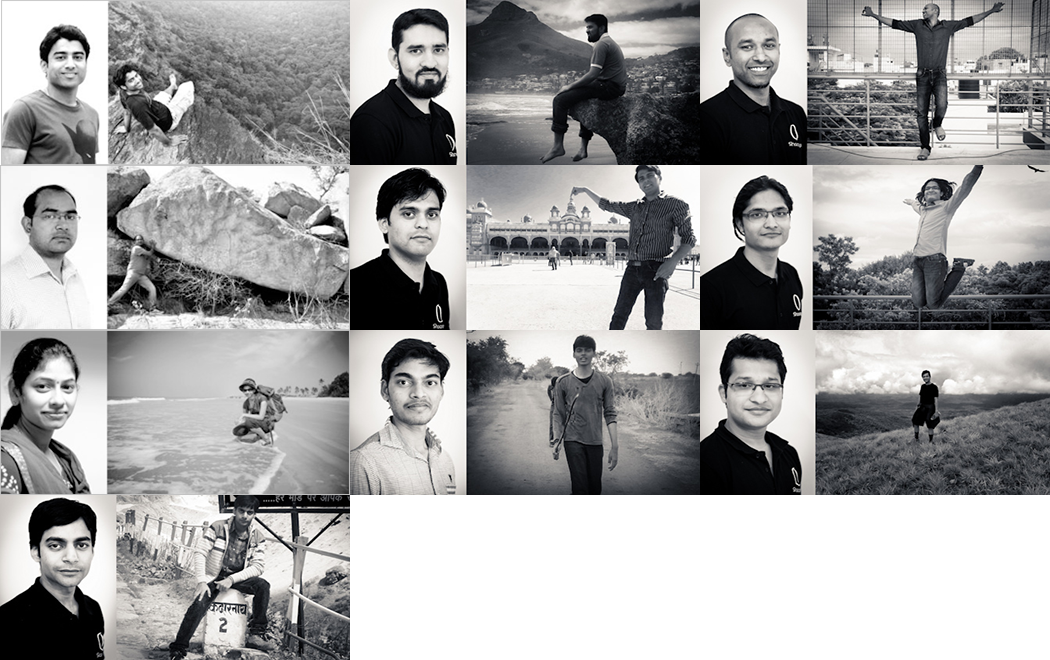 Rituja, Finance Manager
If it wasn't for her, there'd be nothing here to read. Seriously, she makes sure we have all the comforts and everyting in office runs smoothly. Loves cooking, trekking and beaches.
"Face every tough situation with patience and courage, it will pass."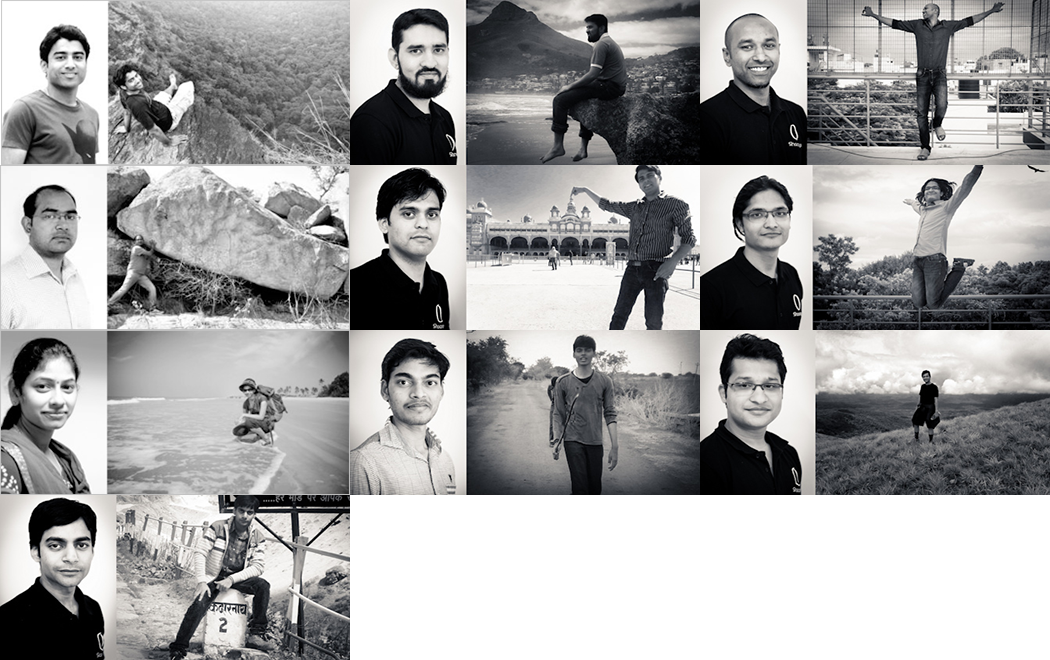 Niranjan, Quality Engineer
Nothing goes to production without his approval. He is hardworking, honest and straightforward person. He likes spicy food, loves to walk alone, and talk to himself. He also loves kids, hates parties and wants to learn photography.
"Smile, you don't own all the Problems in the world"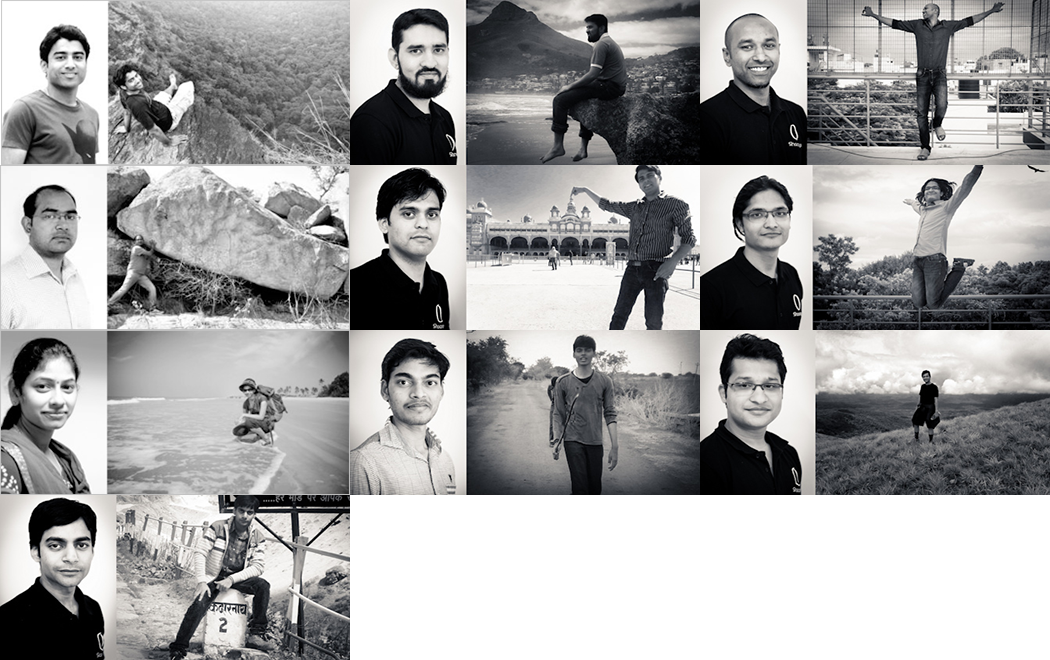 Prateek, User Experience Engineer
A smiling happy go lucky guy from DA-IICT. He loves travelling to new places, reading novels and hanging out with friends. Apart from his phone, he carries his kindle wherever he goes.
"Everything that happens, happens for a good reason."